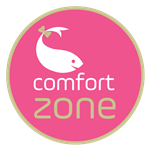 Celebrate your colours
Clothing and fabrics are my passion.
Feeling gorgeous and comfortable,
was my vision and purpose in creating the brand "Comfort Zone Boutique"
Inspire your day with fashion
Each item is designed as a fashion statement
without forfeiting your comfort.
Our designs are made and created for you in mind, no matter your age or size.
Every day is a happy day
For fashion entrepreneur, producer and designer of our brand clothes – Michal Ram,
The fashion items she designs are her way of inviting women of all sizes
to connect to their personal and individual power.
To feel comfortable in their bodies and celebrate the range of colours present within each of them.
In her view, the perfect item of clothing is the one the wearer feels relaxed and beautiful
and hence full of confidence, self-esteem and joy.
On the Comfort Zone Boutique website you can find all sizes including Plus sizes – all in a unique, comfortable and flattering design.
Here you will find Jalabiyas, Tunics, Plus-size dresses for women, and more …